Introduction
The New York Team is comprised of 1 manager, 1 nurse, 3 beauticians and 2 receptionists. We are here to best advise you in your aesthetic goal.
Contenu
Anna - Clinic Manager
Anna comes from Eastern Europe where she completed her degree in international relationship and then used her experience in the customer service industry to find employment and move to New York City. While growing up in Europe, she was always interested in art and fashion trends.
After moving to New York, Anna started to explore the world of beauty and aesthetics. The mix of passion and knowledge brought her to the one of the best medical spas in New York where she gained more than 8 years of work experience as a manager. She loves going above and beyond for each client to make sure she provides them with the best service.
Her goal is to educate patients on the subject of injectable and non-invasive enhancements and to make them feel comfortable and special. Anna provides each guest with excellent service and a personalized experience.
Contenu
Maria - Registered Nurse
Maria graduated in 2019 as a registered nurse and has since gained a unique background in healthcare and cosmetology, developing a broad range of skills that she uses in clinical, administrative and operational settings. Maria has past experience in medical, cosmetic and aesthetic treatments.
Her passion for cosmetology combined with her clinical experience as a registered nurse, makes Maria a preferred staff member at our clinic.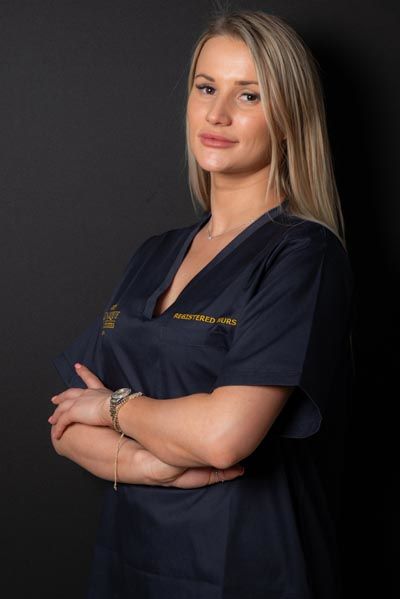 Contenu
Janellie - Aesthetician and Laser Technician
Janellie graduated from the Christine Valmy International school to go on to working with one of the top doctors in NYC. Janellie values the beautification of the skin and has the knowledge of the medical procedures practiced and is very familiar with the medical spa setting. Customizable facials such as the hydrafacial and derma-planning are just a few of the treatments she has practiced.
She is also certified in non-invasive body treatments including radio frequency body contouring and emsculpt. Laser hair removal being one of the most popular treatments, she always looks forward to consulting her patients and helping them achieve their goals and feel amazing.
Contenu
Taryn - Aesthetician and Laser Technician
With more than 19 years of experience in the aesthetic field, Taryn Johnston brings an elite level of skin care knowledge with a warm, personalized touch. Taryn's work has brought her beyond the United States with experience working in both France and the United Kingdom, allowing her to gain new perspectives on skin care.
Prior to joining Sadick Dermatology, she worked with brands such as Aveda, the International Dermal Institute-Dermalogica, Clarins, and Heyday, where she held positions as an aesthetician, master educator, training manager and aesthetic trainer.From clinical facials and advanced laser treatments to customized peels and novel energy treatments, her aesthetic services are exceptional.
Contenu
Amalia - Aesthetician and Laser Technician
Amalia is a Licensed Medical Aesthetician and has been dedicated to the field since graduating from Christine Valmy International School. She is an experienced laser aesthetician in different types of laser machines, certified in non-invasive treatments such as Ultherapy, CoolSculpting, EMSculpt at our Champs Elysees Clinic in New York City.
Amalia is also a certified phlebotomist, working in a medical office. She has been working actively in the aesthetic industry for over 7 years, starting as an eyelash specialist and a freelance makeup artist for weddings and special events. Amalia has a passion for growing in her professional field and continuing her education as registered nurse.
Her passion is connecting with others and making everyone not only look good, but feel good and is focused on achieving long term results.