Contenu
Keravive HydraFacial restores the health of the scalp using patented Vortex technology and an exclusive complex of peptides and next-generation growth factors.
Titre
Indications : A healthy scalp
Contenu
An unhealthy scalp (dry, clogged follicles, accumulation of dead cells) can lead directly to thinning and hair loss. HydraFacial Keravive acts as a primary care:
In case of full hair: Preventive care to maintain a healthy scalp.
In case of slight hair thinning: Stimulation of the scalp to provide the nutrients needed by hair follicles.
Keravive can also complement other hair care protocols (PRP, mesotherapy, LED, etc.).
For moderate to severe hair thinning: Complementary care to other hair restoration treatments.
In cases of alopecia: Moisturizing and soothing scalp care to prevent dryness and irritation due to pollution.
Titre
Hydrafacial Keravive session
Contenu
Vortex Technology cleans, exfoliates and stimulates the scalp while Keravive Complex deeply moisturizes and nourishes with an exclusive cocktail of peptides, proteins and next-generation growth factors.
The treatment consists of three sessions one month apart. The treatment lasts approximately 45 minutes. The esthetician treats the hair section by section.
The Keravive treatment protocol consists of three steps.
Step 1: cleansing + exfoliation
Keravive exfoliates and cleanses the scalp from dead cells and excess sebum while stimulating vascular circulation.
Step 2 : Stimulation + hydration
Keravive saturates the scalp with nutritive active ingredients and optimizes their absorption thanks to the new generation delivery system.
Thanks to the very high concentration of active ingredients, the exclusive Keravive serum targets all aspects of scalp and hair follicle health.
An exclusive blend of five growth factors and two skin proteins includes key ingredients such as :
Epidermal Growth Factor (EGF).
Vascular Endothelium Growth Factor (VEGF).
Fibroblast Growth Factor (bfgf).
THYMOSIN BETA-4 (thymnosin beta - 4).
Keravive booster actives are encapsulated in micro-particles called nano-liposomes able to penetrate tiny hair follicles.
Step 3: Monitoring + Optimization
The patient optimizes the results of the treatment performed in the clinic with Keravive Spray daily home care.
Contenu
HydraFacial Keravive treatment is relaxing and totally painless. On the day of the session, some patients may experience a slight sensation of warmth and itching of the scalp. Do not wash your hair the next day.
Contenu
HydraFacial Keravive optimizes the scalp's natural ability to produce keratin, stimulates blood vessels and improves microcirculation.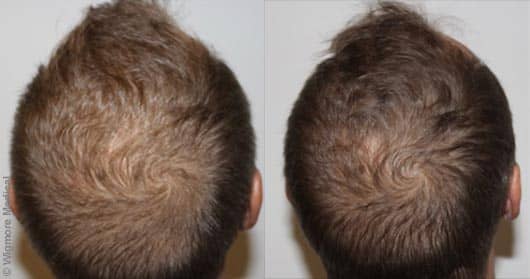 Patients see a significant improvement in the appearance of their hair. The result is visible one month after the first session and improves during the course of treatment to be optimal two months after the third session.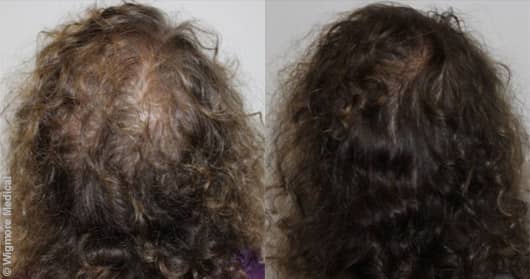 The result can be maintained with a treatment every six to nine months.