Contenu
Accent Prime™ is a non-invasive ultrasound and radio frequency device which removes localized fat, reduces cellulite and tightens skin collagen. It offers effective and highly customized treatments that deliver natural and long-lasting results.
Titre
Indication: Body contouring
Contenu
Accent Prime™ is best suited for :
Reduction of fat deposits
Reducing cellulite
Skin firming
All skin colors (types I to VI) can be treated with no risk of depigmentation.
Titre
How the Accent Prime™ treatment session works
Contenu
Accent Prime ™ encompasses ultrasound and radio frequency to reshape your figure at exceptional speed. It was approved by the Food and Drug Administration (FDA) in 2007.
Contenu
It targets only the fat cells without impacting the surrounding tissue.
One treatment involves one to three sessions, which are three weeks apart.
Remodelling of the face and body
Accent Prime ™ uses the power and efficacy of focused ultrasound and radio frequency to remove excess fat and loose skin, improving the shape of the face and body.
The synergy between ultrasound and radio frequency delivers superior results to those of stand-alone technology.
Ultrasound breaks down membranes of fat cells. The doctor may choose to work in either cold or warm mode, or to combine the two modes for optimum results.
Cold ultrasound selectively destroys fat cells, progressively breaks down and eventually releases stored fat.
Warm ultrasound creates compression waves that reach a high cavitation level, breaking down local fat deposits by increasing temperature.
Once triglycerides are released into the blood, unipolar radiofrequency accelerates their metabolism for quick lymphatic drainage.
Hand pieces for body contouring:
UltraSpeed covers large parts of the body at record speed. For example, treatment time for the entire abdominal area is decreased to just 20 minutes.
MiniSpeed treats sensitive areas of the face, neck and cleavage, or small areas of the body.
Contenu
Reducing cellulite
Large, separate fat deposits under the skin push up the underlying connective tissue, generating an uneven surface of the skin and a bumpy cellulite appearance.
Accent Prime ™ is composed of radio frequency energy and mechanical massage to boost the metabolism of adipose tissue. The volume of fat cells lowers, stimulates lymphatic drainage and visibly smoothes the texture of the skin.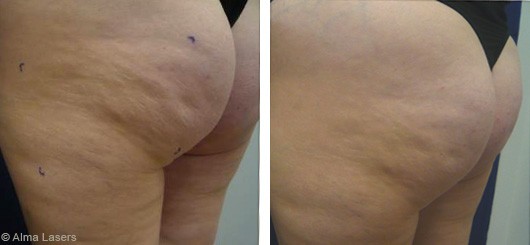 Attenuation of cellulite with Accent Prime ™
Hand pieces for cellulite:
UniForm blends strong unipolar radiofrequency energy with a mechanical applicator to completely warm the skin while improving metabolism within the subcutaneous cells, thus fixing the appearance of cellulite.
UniLarge uses unipolar radiofrequency energy to speed up fat metabolism and noticeably smooth orange peel skin.
Titre
After effects of Ultrasound combined with radio frequency
Contenu
Accent Prime ™ has no adverse effects or recovery time. The patient can resume daily activities directly after the session.
Contenu
From the first session, the patient will notice an improvement with a decrease in the circumference of the treated area and a decrease in cellulite. The results are optimal two to three months after the end of treatment, when the body expels the adipocyte waste and the skin collagen regenerates.
Results are permanent if the patient lives a healthy lifestyle.

Lose a little belly with Accent Prime ™
Tarifs
Label colonne description

Face

Label colonne tarifs

Prices

Lignes

Description

Eye contour and cheekbones
Label colonne description

Body

Label colonne tarifs

Prices

Lignes

Description

Saddlebags and banana roll

Description

Full buttocks and banana roll
Label colonne description

Other fees

Label colonne tarifs

Prices

Lignes

Description

Consultation with the doctor