Contenu
Urgotouch® is a portable laser engineered to preventively treat scars in the operating room with one easy, safe, painless movement. It takes early action in the deepest layers of skin to maximise tissue reconstruction and make the scarring less noticeable.
Contenu
While scarring is an intrinsic part of the healing process after surgery, it always leaves a mark that does not completely disappear. 92% of patients would prefer a less noticeable scar
No matter how confident and safe your surgeon is, scarring is unpredictable and depends on the person. With Urgotouch®, you stack the odds in your favour, to minimize the appearance of scarring from the moment the operation is done.
This is a substantial improvement in cosmetic surgery, particularly in breast surgery (breast implants, breast reduction, breast reconstruction) and body surgery (abdominoplasty, arms and thigh surgery) that leaves obvious scars.
Titre
How a laser session works
Contenu
With so much innovation in this portable laser, Urgotouch® is the product of 10 years of research in collaboration with laser experts, cosmetic surgeons and dermatologists.
Contenu
Urgotouch® is performed under anaesthetic at the end of surgery and is therefore completely painless.
The heat generated by the laser shot disperses through the skin, modifying the inflammatory reaction process and helping the collagen fiber networks to organize in such a way as to improve the appearance of scarring.
Contenu
There will be a small oedema for two or three days and a redness for five days.
In order to avoid post-inflammatory hyperpigmentation, the scar should be subjected to as little light as possible and it is recommended to wear a high or maximum sun protection factor (>50) until the scar tissue has matured and the affected area is well hydrated.
Contenu
Urgotouch® was the subject of a clinical trial that proved its efficacy. An average reduction of the scar size by 36% was reported. Five parameters were taken into account: vascularization, pigmentation, thickness, elevation and surface of the scar.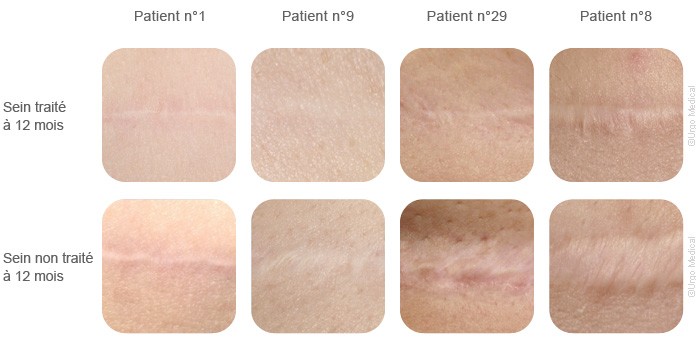 Results with and without Urgotouch®
Titre
Cost of the Urgotouch® laser
Tarifs
Label colonne description

SYMPTOMS

Label colonne tarifs

PRICE

Lignes

Description

Breast reconstruction / Breast reduction