Contenu
Smartxide Touch® is a highly efficient fractionated CO2 laser for the treatment of wrinkles, stretch marks and all types of scars (post-acne, atrophic and keloids). It profits from a new technology that allows several non-contiguous impact points to be generated for maximum results using light laser pulses.
Contenu
Smartxide Touch® is a laser that is appropriate for:
Reducing wrinkles and fine lines
Remodeling the skin texture
Get rid of superficial pigment spots
Scar removal (acne scars, atrophic and keloids)
Removal of stretch marks
Any skin colors (types I to VI) can be treated without risk.
Treatment of scars with Smartxide Touch®
If required, the doctor can use Smartxide Touch® as an ablative CO2 laser with longer and more complex side effects.
A diode can also be included to perform laser-assisted surgical dermatology (warts, moles, etc.).
Contenu
A simple cream is appropriate as an anaesthetic. Treatment consists of two to four hours, based on the indication to be treated.
Smartxide Touch® is benefiting from the latest technological innovations:
PSD™ Technology
There are three various types of pulse mode that fire at a rate of 40, 60 or 80 watts continuously.
SmartPulse (SP)
Constant and long diffusion of thermal energy:
Heats the deeper layers and vaporizes the thickness of the epidermis.
Recommended to treat atrophic scars.
DekaPulse (DP)
Short continuous thermal diffusion:
Heat the deepest layers of the reticular dermis (low vaporization).
Recommended for skin sagging.
High-Peak Pulse (HP)
Little to no thermal diffusion:
Very superficial vaporization (cold ablation).
Recommended for age spots.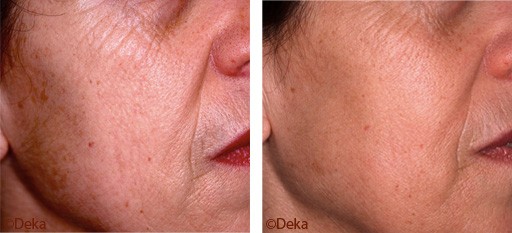 Remove sun spots with Smartxide Touch®
The Hi-scan DOT / RF
The radio frequency used in the scanner prongs penetrates the deep layers of the skin, which cannot be penetrated by CO2, allowing perfect interaction for maximum tightening of the skin.
The physician can use the CO2 laser and the radio frequency at the same time or intermittently. Thanks to this option, the recovery time of the patient is shorter and the number of sessions is lower.
The SmartStack Function
The SmartStack function produces a sequence of pulses in rapid succession (from 1 to 5) at the same impact point (DOT) and is programmed to monitor the depth of vaporization and thermal action in a precise way.
It helps minimize recovery times by increasing patient comfort.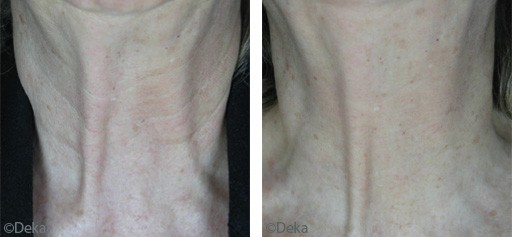 Neck rejuvination Smartxide Touch®
Controls thermal effects on skin tissue.
Physicians can decide to fire the laser energy in a single pulse or in a series of successive pulses at the same impact point (DOT). When more than one pulse is used, the skin tissue cools between two consecutive pulses and thus reduces thermal damage (TRT: Thermal Relaxation Time).
This also decreases the risk of adverse side effects in highly sensitive areas or in patients with dark or Asian phototypes.
The depth of laser vaporization can be monitored in a precise way
Even when deep laser ablation is needed such as in scar treatment, Smartxide Touch® avoids significant bleeding.
Titre
The after effects of Fractional CO2 laser treatment
Contenu
There will be a mild redness and swelling, as well as a sunburn effect for a few days.
Contenu
Smartxide Touch® regenerates collagen so that the skin becomes smooth. The effects are visible after the first session and are improved over the course of treatment.
Improve the look of expression lines with Smartxide Touch®
Titre
Smartxide Touch® Laser Price
Tarifs
Label colonne description

Photorejuvenation

Label colonne tarifs

Prices
Label colonne description

Wrinkle reduction

Label colonne tarifs

Prices

Lignes

Description

Crow's feet / Eye contour
Label colonne description

Dark spots treatment

Label colonne tarifs

Prices

Lignes

Description

Dark spots on the face, melasma

Description

Dark spots on the neckline
Label colonne description

Scar treatment

Label colonne tarifs

Prices

Lignes

Description

Accidental or post-operative scarring

Description

Facial acne scars
Label colonne description

Stretch mark treatment

Label colonne tarifs

Prices

Lignes

Description

3D stretch mark reduction
Label colonne description

Other fees

Label colonne tarifs

Prices

Lignes

Description

Consultation with the doctor