Contenu
DermaFrac® is a process that enhances skin texture and brightness. Using a roller with tiny needles, micro-channels are formed in the skin from which carefully chosen active ingredients are penetrated.
Titre
Target: Having a great skin
Contenu
Beautiful skin has never been simpler than with DermaFrac®. This procedure is indicated for:
Improving the quality and appearance of the skin: dilated pores, acne.
Providing a boost: a dull or blurred complexion.
To lighten the dark circles.
Decreasing brown spots: photoaging, mild melasma.
Reducing slight stretch marks.
Clearing the scars of acne.
Every colors of the skin may be treated.
Pregnant mothers, people with anticoagulants or those suffering from medical skin disorders should avoid this treatment.
Titre
The course of the DermaFrac® session
Contenu
DermaFrac® was authorized by the Food and Drug Administration (FDA). The device has a handpiece fitted with a continuous vacuum pressure system that holds the skin in contact with the tip, allowing for a treatment that is both painless and pleasant for the patient.
Full treatment involves three to six sessions, three weeks apart, followed by one to two scheduled maintenance sessions each year.
You may treat your face, ears, upper chest, arms and hands.
Each treatment is tailored according to the area to be treated:
Rejuvenating: the formulation of peptides promotes the formation of collagen and fibroblasts which release the muscles in a delicate and natural way.
Hydrating: Hyaluronic acid enhances long-lasting hydration.
Purify: lactic acid and salicylic acid allow to clean oily and clogged pores.
Thinning: Kojic Acid is a natural and powerful brightener that removes pigment spots.
The session lasts between 20 and 35 minutes and is performed in four phases:
Skin exfoliation to eliminate dead cells. There are three main dermabrasion intensities based on the thickness of the skin. 
Microneedling by means of a roller fitted with very small plastic needles (0.25 and 0.50 cm) with perforation of the skin and subsequent injection of anti-aging active ingredients, peptides, hyaluronic acid, etc. at the junction of the epidermis and dermis.
LED lamp to maximize the activity of the products injected. Red to suppress redness, blue to acne, and yellow to increase collagen.
A Mask with growth factors is applied.
Contenu
There is no follow-up needed. There's no redness or swelling. Wear a sunscreen after treatment to prevent exposure to the sun. You may put on makeup right away.
Contenu
DermaFrac® induces the development of collagen and elastin in the dermis. The injection of the active ingredients at the same time as the microperforation of the skin enables the drugs to penetrate deeper into the dermis for a more successful result.
The skin is smoother and more vibrant from the first session. During treatment, texture and consistency continue to improve steadily.
Image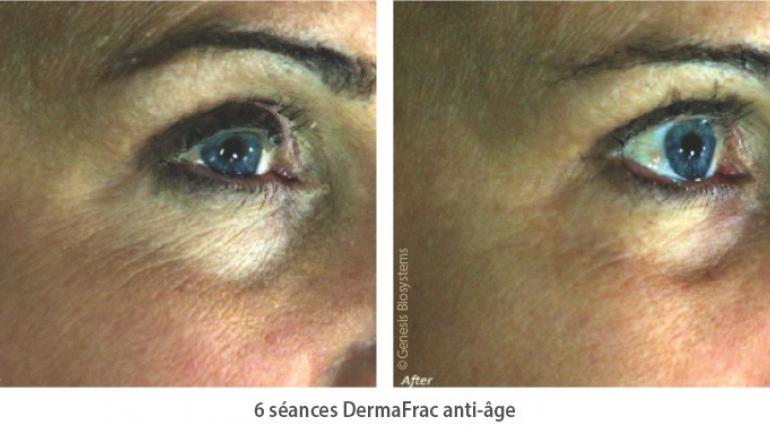 Image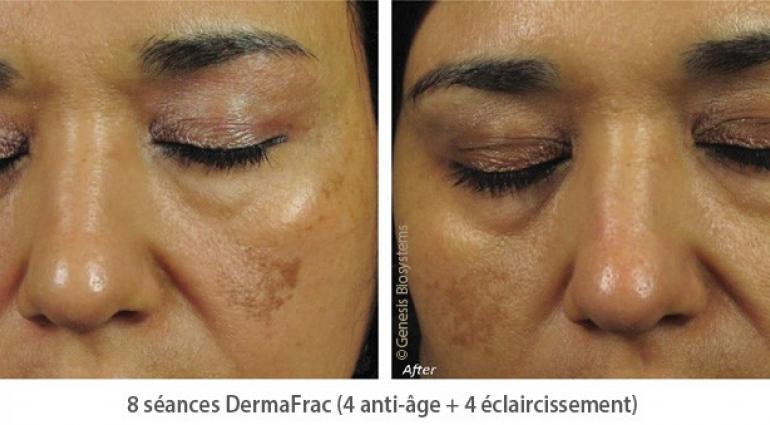 Image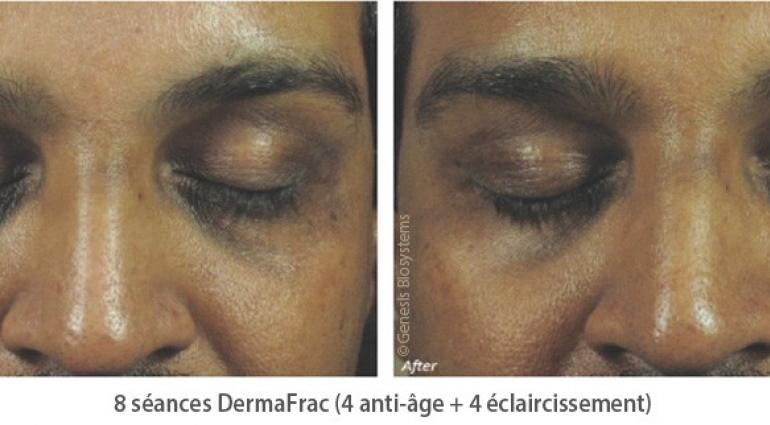 Image
Tarifs
Label colonne description

Sessions

Label colonne tarifs

Prices
Label colonne description

Other fees

Label colonne tarifs

Price