Contenu
Ulthera® is a reshaping method to restore tautness to the face, neck and cleavage and has been approved by the American FDA. Focussed ultrasound activates new collagen synthesis which produces a non-invasive facelift in just one session.
Contenu
Ulthera® treatment may help patients with slightly loose skin around their eyebrows, bottom of their face, chin or lines around their neck or cleavage.
Re-lift drooping eyebrows or eyelids
Restores your face to its true shape
Toning the skin on your neck
Smooth the cleavage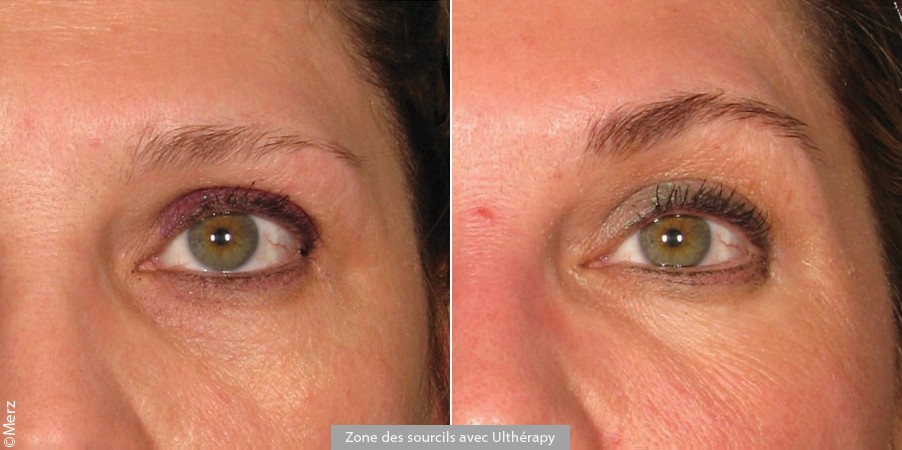 Brow and eyelid enhancement with Ulthera®
If you have too much excess skin, you may have to opt for surgery and have a blepharoplasty or facial lift.
Contenu
To date, more than 800,000 patients across the world have been treated using Ulthera®.
Contenu
After taking off the make-up and washing the skin, the physician will determine which areas need to be treated. The applicator delivering the micro-focused ultrasound is linked to an ultrasound scanner, which enables the practitioner to perform the treatment in the most reliable and effective way possible.
The session will last between 30 minutes and 1,5 hours depending on the area to be treated. One session is sufficient, but the doctor can give a second session six months later to maximize results.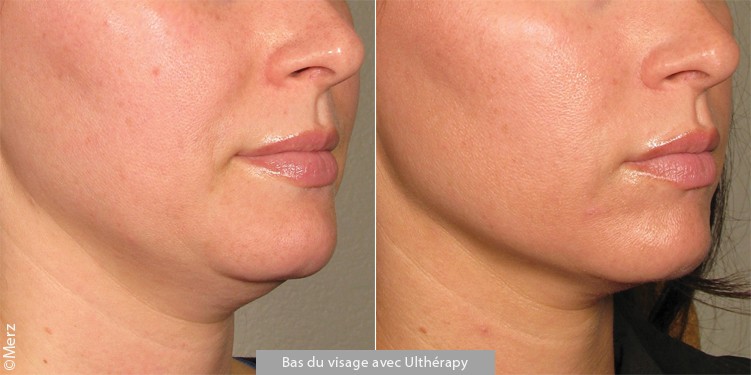 Firming of the oval of the face with Ulthera®
Ulthera®: how does it work
Ultrasound focuses on various layers of the skin at 1.5, 3 and 4.5 millimeters; the depth is targeted by surgeons while performing a facelift.
The ultrasound travels perfectly through biological tissue like the skin, because it naturally comprises a lot of water. Ulthera® generates frequencies between 4 and 10 MHz, known as high-frequency ultrasound.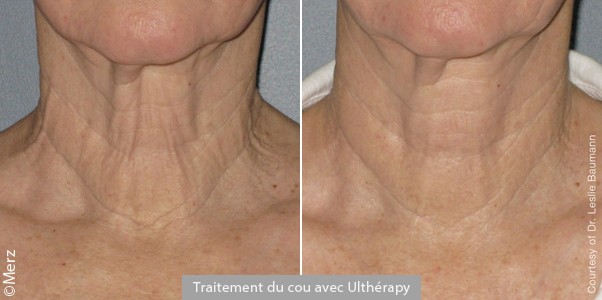 Neck rejuvenation with Ulthera®
Ultrasound heats the skin to 65 degrees inside the dermis and the Superficial Musculoaponeurotic System (SMAS), which induces denaturation and contraction of the collagen without damaging the epidermis.
Titre
The effects of focussed ultrasound
Contenu
You may resume your daily activities immediately. Redness can remain for a few hours, with a mild swelling for a few days. The skin may also be sensitive to touch within a few days of treatment.
Contenu
Gradually, the skin grows firmer as new collagen is produced. Definitive results can be seen three to six months after the Ultherapy session. The results last between 12 to 18 months.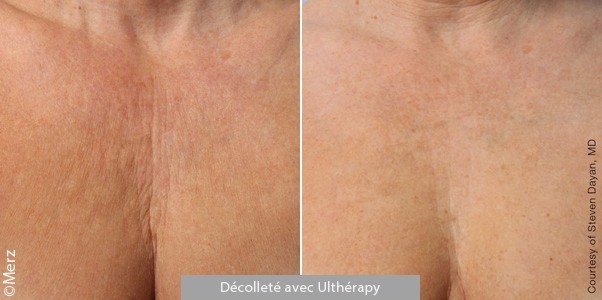 Decrease of the neckline with Ulthera®
Tarifs
Label colonne description

Indications

Label colonne tarifs

Prices

Lignes

Description

Face shape and chin (jawline)

Description

Whole neck (neck and jawline)
Label colonne description

Other fees

Label colonne tarifs

Prices

Lignes

Description

Consultation with the doctor