Contenu
Exilis Elite™ simultaneously delivers radio frequency energy and ultrasound to firm the skin in a completely painless and non-invasive manner. This method also reduces small, highly localized fat deposits through the liposuction process.
Titre
Rejuvenating the skin and eliminating small fatty deposits
Contenu
Rejuvenating the skin
Exilis Elite™ increases the formation of collagen to improve the texture and firmness of the skin on the face and body. The areas most commonly treated are eye contours, mouth, oval, neck, neckline, hands, legs, arms, knees, ankles, buttocks, and stomach.
Wrinkles and fine lines
Loose skin
Wrinkled skin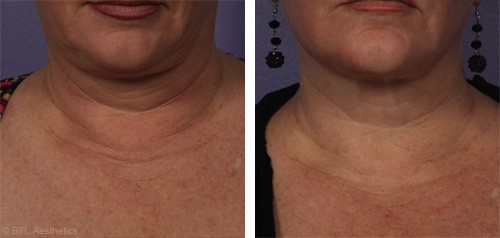 Rejuvinate the neck and neckline

Firming the skin under the chin
Removing small, highly localized fat deposits
Exilis Elite™ eliminates fat from small areas such as double chins, love handles, inner arms and thighs, the subgluteal banana fold and gynaecomastia in men.
It also works on cellulite because it smoothes the skin and reduces dimples.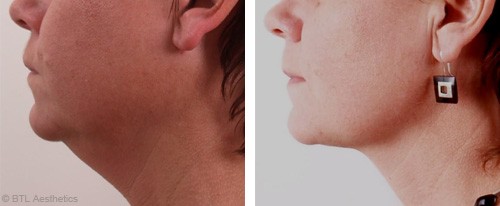 Slimming of the neck

Removal of love handles
Exilis Elite™ can be adapted to all phototypes from the lightest to the darkest.
Titre
How the Exilis Elite™ treatment works
Contenu
Exilis Elite™ delivers monopolar radio frequency energy and ultrasound at a depth of 2.5 centimeters to heat the skin and target fat cells.
This coupled action of the two energies has a two-fold effect:
Stimulates the production of collagen to improve skin laxity and texture
It speeds up the metabolic activity of the adipocytes and reduces their volume by removing fat.
The physician has two hand pieces of various sizes for the body and the face.
Exilis Elite™ is the only device capable of delivering intelligent impedance in real time. The system automatically calculates its speed (1000 times per second) to raise the heat to the right temperature for each treated area: fast speed for small areas and slow speed for large areas.
An integrated cooling system ensures patient comfort during the session while maintaining the heat at a sufficient temperature to target the precise depth for an effective result.
The sensation experienced by patients is similar to that of a hot stone massage.
The Exilis Elite™ session lasts between 15 and 30 minutes. Make plans for 2 to 3 sessions for the face and 4 to 6 sessions for the body with a period of one week between each session.
Titre
After-effects of radio frequency and ultrasound
Contenu
At most, there is a slight redness and a slight oedema. These side effects last only a few minutes to a few hours and have no impact on your daily life. You can resume your usual day-to-day activities right after your treatment.
Contenu
The results are perceptible from the first session and will continue to improve for three months after the end of treatment. The wrinkles and fine lines are reduced, the skin is firmer and the fat is removed permanently.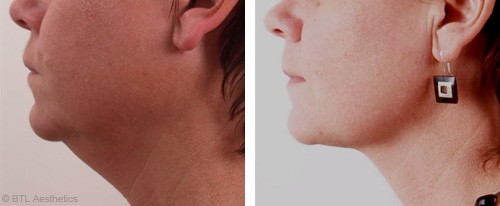 Eliminating the double chin
Tarifs
Label colonne description

Face and hands

Label colonne tarifs

Prices

Lignes

Description

Mid face (cheeks, cheekbones)

Description

Oval of the face (lower jaw + under chin)

Tarif

From $1,200 to $1,800

Description

Whole face (eyes, cheeks, oval)

Tarif

From $1,200 to $2,200
Label colonne description

Body

Label colonne tarifs

Prices

Lignes

Description

The sub-gluteal banana fold

Description

Area above the pubic area
Label colonne description

Other fees

Label colonne tarifs

Prices

Lignes

Description

Consultation with the doctor