Contenu
The Discovery® Pico Plus is the combination of a Nd:yag picosecond laser with a Q-Switched Ruby laser in a single device to remove tattoos and pigment damage. It is currently the most powerful pico laser commercially available.
Titre
Indications: removal of tattoos and pigment or vascular lesions
Contenu
The Discovery® Pico Plus is a multi-functional laser which is suitable for several indications:
It can remove all tattoo pigments
It can erase even the lightest brown spots (lentigines, cafe au lait spots, etc.)
It can be used to treat scars (except keloids) and acne scars
It can remove vascular lesions (angiomas, birthmarks, etc.)
It is suitable for I to VI skin phototypes.

Vacular removal with Discovery® Pico Plus
Contenu
The innovation introduced by the Discovery® Pico Plus is that it operates at a high peak power level thanks to very powerful ultra-short pulses. This improves the treatment outcomes by increasing the efficiency of difficult-to-treat tattoo inks with an overall decrease in the average energy dose provided.
The Discovery® Pico has large spotlights varying from two to five millimeters in size and fast repetition rates that make this laser the comprehensive solution for the treatment of almost all tattoo colors and pigment damage, also on very dark skin.
The doctor will first apply numbing cream to the area to be treated. Then the Nd:Yag or Q-Switched laser is chosen according to the indication to be treated and the phototype.
The Discovery® laser is the only Pico laser that allows you to operate in Q-Switch mode and picoseconds. By coupling the two technologies in a dark phototype tattoo removal treatment, better results are achieved without adverse effects.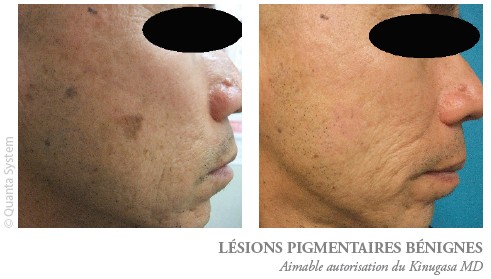 Dissappearence of benign pigmented lesions with Discovery® Pico Plus
The session usually lasts approximately 20 minutes.
The Nd:yag Pico Laser
Dual wavelength Nd:YAG laser source emits both 1064 nm and 532 nm of light. This feature enables you to work in Picosecond mode with up to 800 mJ of energy and up to 1.8 GW of power.
Treatment of a black tattoo with Discovery® Pico Plus
The Q-Switched Ruby laser
The Q-Switched Ruby enables you to expand the range of tattoo colors that need to be removed. It is the most efficient laser for the treatment of blue and green colors due to the very high pulse energy that can break down ink molecules. Color particles that are treated with this laser are, on average, larger than those that make up black ink and also react very well to pulses in nanoseconds.
The duration of treatment varies depending on the complexity of the tattoo. Make provision for 4 to 8 sessions spaced 6 to 8 weeks apart.
Titre
Pico laser treatment after-effects
Contenu
There will be redness and swelling for eight to 36 hours. The physician will prescribe an antibiotic cream for a week.
Elimination of a pregnancy mask with Discovery® Pico Plus
Water blisters may appear when large areas are treated. These must be pierced by the patient 24 hours after the session.
Dark skin will lighten up during treatment and reclaim its initial color two months later.
Contenu
The results are visible from the first session and will improve over the course of treatment.
Tattoo removal on the calf with Discovery® Pico Plus
Titre
Discovery® Pico Plus Laser prices
Tarifs
Label colonne description

Indications

Label colonne tarifs

Prices
Label colonne description

Other fees

Label colonne tarifs

Prices

Lignes

Description

Consultation with a doctor
Contenu
* The price indicated is for 1 session.